I am sure some other farms are different, maybe other farmers or 'specialist grower' as we prefer here like hot steamy weather, maybe they like being outside in heat and humidity. Well I don't, neither do our people.
So we try our upmost to get as much as possible done before it gets hot and more especially humid. Its horrid working outside when the air feels like the inside of a sauna. I push and cajole everyone along to get all the field prep done before the heat hits.
Most years we make it, this year we did not. Well not exactly. This year we have been lucky its not been humid yet. Most years by this time in June its humid as all heck but not this year, not yet. So we were able to get most of the stuff finished.
It makes spring an extremely busy time. First the rows have to have their yearly compost additions, then the irrigation tape must be laid and then overlaid with the plastic mulch and the lumite put back down in the 'aisles' to keep down the weeds and contain any soil borne diseases (mostly molds). We don't spray anything not even with organically accepted chemicals so prevention is extremely important.
It's a mad rush to get it all the fields prepared. At the same time we are looking after our little seedlings, watering them in their trays and then transplanting them into larger individual pots to grow on large enough to be planted in the fields. Then of course when they are big enough planting them out in the newly prepared fields.
If that is not enough on a medicinal herb farm harvesting of perennials starts early, usually long before the field preparation is completed and always before all but a very few new plants have been transferred to the fields. Some plants crop very early Greater celandine is one of the first but its soon followed by nettles, motherwort, cleavers and honeysuckle. All these need to be harvested checked over and dried ready for sale or use in many of our products. Its also the busiest time for our seed sales as everyone else wants to get their garden up and ready too.
Its not uncommon at this time of the year to be working outside for 8 – 9 hours straight – we rarely break for lunch. Farm work is very season and weather dependent, you cant put a task off until next week because you want a break it has to be done NOW or its too late. Little plants need a place to grow and crops need to be harvested at the peak of ripeness.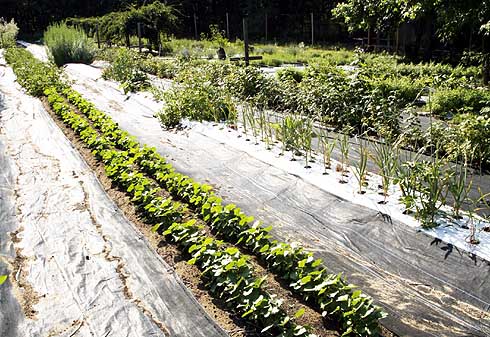 This means that almost everything else in the world is put on hold. Farmers don't get out much, they are either working or sleeping because they are exhausted from working. Other stuff in life suffers, friends, social life (what social life) and especially social media. I had intended to update this blog on a bi weekly basis and keep everyone informed about what we were doing, well that didn't work out well. There was just not time to write the articles. I made a few notes but that was about all. Sorry everyone but that's life on a farm. Hopefully I can get back on schedule now and maybe do better next year.
Happy gardening everyone.