It took nearly seven hours, but with cloudy skies and cooler temperatures it was a perfect day to transplant many of our little plants to their field locations. Transplanting on a cloudy day is essential. When little plants are placed in a new setting they are stressed – just like people – setting them out under bright hot sunshine can be too much for many plants and they fry. Picking a cooler cloudy day to do this work gives them more time to acclimatized to their new environment and get their roots moving to pick up moisture. Its even better if the cloudy day is going to be followed by rain, steady solid rain is better than abrupt storms but rain of any kind is good.
During the spring months I watch for these days and get outside as soon as possible to hand transplant as many plants to the field as possible. Friday was just such a day, well almost it poured with rain first thing so I was held up a bit before starting.
We grow all our plants in 2" square pots, when they are large enough to survive in the fields they get moved out from our patio area. A hole is punched in the white plastic mulch and the plant is knocked out of the pot and placed in the ground. Once the row is completed the irrigation is run to allow them enough water to set their roots in well. If the irrigation for a particular row is not yet set up they are watered by hand.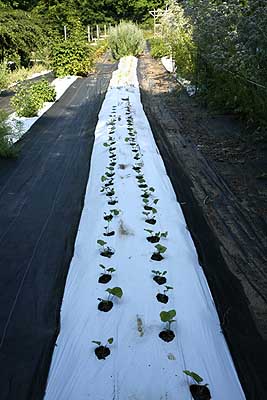 Each plant hole is punched by hand and each plant is transplanted by hand, the empty pots are then collected up and returned to the greenhouse for washing and sterilizing ready for next years plants.
350 plants is 350 holes and 350 transplants, it's a lot of work. Still we now have a portion of our crops in the field where they are easier to take care of. The others are still growing to a large enough size and waiting for the next cloudy day to be transplanted to their new homes.