The problem with farm work is that it has its own timetable and it does not care about weekends or holidays. Spring is a very important time to get all the plants in the ground so they can get growing and flourishing. Memorial day weekend and other holidays often does not exist for farmers its too busy a time especially in the spring and the fall when there is so much to do.
For most people in the North eastern United state memorial day weather probably sucked, this past weekend was not that great either if you want to hang in the great outdoors. Memorial day weekend it was cool cloudy and rained a lot. Saturday night into Sunday we got nearly three inches of rain! It rained quite a bit on Sunday morning and then light rain for most of the rest of the day.
Perfect weather for planting. – at least on our soil.
When the heavy rain was over we were outside and hard at work. Our seedlings get transplanted into their own individual pots and grown on then planted in the ground as soon as we can. Cloudy days are perfect since it allows the plants to get acclimatized to their new surrounding without being blasted by hot sunshine.
We first cover or permanent beds with black/white plastic mulch. This keeps the weeds down and keeps the soil most and stops erosion. It also helps to keep down any soil borne problems from splashing on the plants. We put ours down by hand since our rows are too close together to use a bed forming machine. We use every inch of space we have since we don't have a huge farm.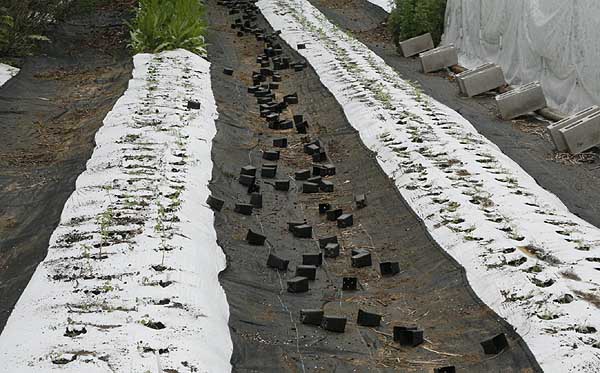 Then we have to hand punch the plastic and plant the plant. Memorial Day weekend was just the two of us, no one else wanted to miss their weekend even if the weather was not great. So hubby did the plastic replacement and I put the plants in. We replaced the plastic on all to-be-planted rows in one of our fields and got as many plants in the ground as possible. That was just under 700 plants! That's only part of the planting there is a lot more to do yet.
This past weekend was a little different. Its put in plants until it rains so hard that you have to run for shelter. Then hang out in the hoop house which is the closest shelter we have. Oh and while we are there lets pull some weeds out of the pots in here too shall we. Then when the rain goes over its back out and more planting. Its not cold so the rain is not a bother and it really waters in the little plants.
It gets you in the back and the legs since its all bending over, but the weather was great. Sorry if others don't think so but there are some people who do like cloudy and rainy weather. The plants certainly do. Just look at your lawn bet that growing tall and fast.