Cold winter days are not popular with many people. Yes there are those who claim they love the cold weather, I personally think they are nuts but heck it takes all sorts.
The snow descends, just like here today, it covers the local world in a blanket of white. Normal things suddenly become beautiful there is a tranquility about it. I can be magical, if of course you don't have to go out to work in it or clean it up. Just looking at it through the window is a pretty wonderful thing to do.
It's not so much fun for the birds. When the snow comes down it covers up all the possible food sources that they have. It's at this time that bird feeders are essential for birds, especially little ones who need a lot of energy just to keep from freezing to death. At this time having a bird feeder and feeding the birds can be a very good thing to do. You can save a lot of little lives and have hours of free entertainment as well.
Watching pretty birds at bird feeders can be a surprisingly enjoyable pastime. Even some birds that at first glance may look boring can reveal themselves as quite beautiful when the feathers are seen more closely.
What to feed the birds.
This is going to depend on where you live. Here in North Eastern United States birds will only eat 'native' kinds of food. Mostly seeds and suet cakes which are packed with energy they need to keep warm. Wild bird food is available in large sacks from all big box stores, most hardware stores and many other sources. In other areas where it is warmer some birds will also be attracted to fruit and other foods so choosing will depend on the type of birds you want to attract and if they are in your vicinity. Putting out fruit to attract fruit eaters when its snowing is not going to work.
If you live in a city, or parts of Europe birds tend to eat lots of other stuff. Growing up in England my parents fed the birds all the scraps from our table, bread, fat scraps all kinds of things except vegetables. We learnt very fast not to put out fish scraps or the garden was inundated with seagulls very fast (we lived near the sea). We also learned to cut the bread up into small pieces or the rooks would come along and stab a whole bunch of pieces like a barbeque skewer and make off with all the food. My mother loved to feed them mashed potato since they could not scoop up a lot of that in one go. She thought that was delightfully funny. Watching the birds gave them hours of entertainment (remember there was no cable or Netflix in those days).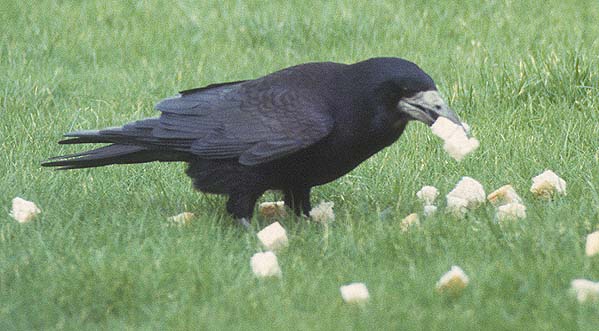 Here in the Northeast US the birds wont eat any of that, they don't even eat bread. They will in very cold winters eat lard but they have to be desperate with snow on the ground for several weeks before they even consider it.
If you are just starting out with bird feeding ask others what they find the birds eat. Its no fun putting out table scraps and finding they are still there weeks later. You could end up with rats. Experiment with new materials in small amounts and see if they like them. Even if you are buying specific bird foods is a good idea to try only in small amounts just in case your birds don't like you offerings.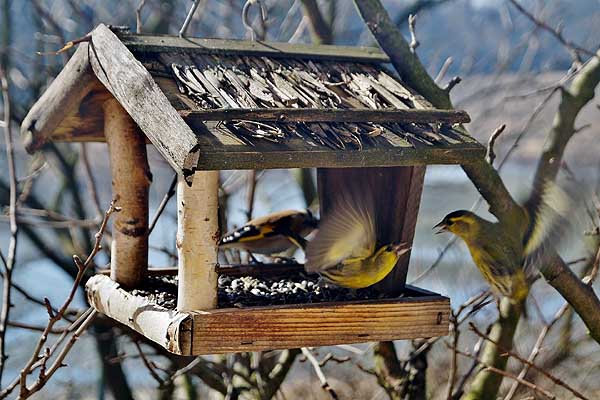 How to feed the birds.
For the most part its good to use bird feeders. Basically they come in two major forms. Long tall cylinders with individual perches for birds and wider squatter feeders with ledges. Both are equally good. Having one of each is even better as different kinds of birds use each kind of feeder. Our hanging bird feeder is used by nuthatches, tufted titmouse, goldfinches, chickadees and other finches. These birds never use the flatter feeder with the ledge, that is frequented by cardinals, bluejays, grackles, starlings, woodpeckers, and many other birds. Dark eyed junko and mourning doves never use either feeder but prefer to feed on the ground and scratch around for scraps that other birds of dropped. Therefore it's a good idea to have one of both if you have places to put them. Also scatter some food on the ground to allow those birds that don't like to get up on the bird feeders to have food too. If there is a lot of snow, scrape some down to a solid layer and put the seed there or it just drops into the snow and the birds cant find it.
Experiment with feeders to find the best ones for you. We started with a fairly small square feeder but soon migrated to a much larger one. At our old even smaller farm we were the only house that fed birds so they came from a great distance and we fed a lot of birds. We got fed up with constantly going outside to fill up our small feeder it got to the point where they would eat it out once a day so a larger feeder that we only had to fill weekly was much better.
Some hanging feeders are specialists for thistle seed. This is fine IF you have thistle feeding birds. We tried one in our old location and never got one bird. If they are not in your area then they cant come to feed. Same thing applies to humming bird feeders, if they don't live in your area then you wont get visitors.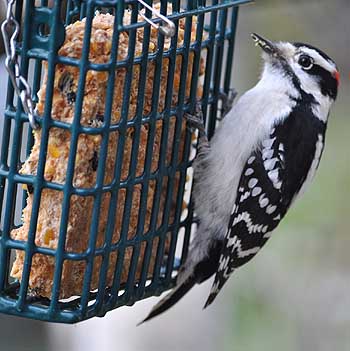 Suet feeders are good if you live in a location where it stays cold for long periods. However if the temperatures fluctuate quite a lot which they are tending to do now the suet can melt and create nasty grease spots on the ground which can be very unpleasant. This can also attract unwanted ground creates like voles and mice to the ground area. We stopped using suet feeders for this reason.
Placement of feeders.
The ideal place is near a window where you can sit comfortably and watch the birds. Having the feeder away from the house where you cant see it defeats the object of entertainment. Lets face it we want to get something out of the deal not just feed them. The joy of watching them is the best bit.
Long cylinders can be hung from hooks under the soffit of the house close to the window. It will take the birds a while to get used to the movement in the house and not fly away every time you move but after a while they ignore it and you can get a really close up view of the birds. It is also more difficult for squirrels to reach feeders in this position. Not impossible just more difficult.
For larger feeders you can either use a pole with a feeder mounted on the top or hang it from a tree. Be aware that feeders full of seed can get heavy so choose a strong branch to do this. Wrap something around wide around the tree branch before you put the rope or chain up to stop the bark from abrading as this can eventually kill the branch. We use an old piece of clothing to pad the branch first. Also be aware that if you put the feeder in a tree many birds will visit the feeder then fly to a nearby branch with their seed and eat it there. Some use their feet and peck the hull off the seed that way. IF they are sitting on a branch the bark of the branch gets pecked too. Over time if they use the same branch it can damage the bark there and you may have problems with the branches dying back.
Where ever you choose also consider other animals that will be attracted to your seed. Mainly squirrels. Squirrels love bird seed as much as birds do and it can be very entertaining watching them try to figure out how to get to the them. I really did not mind the squirrels using our feeder, to start with, but they do tend to eat a whole feeder full of seed at one time and what they don't eat they throw on the ground so you end up with a pound or so of seed on the ground and nothing in the feeder. It then gets annoying having to keep filling it up. Keeping the squirrels off the feeders and putting other food out just for them (if you want to fee them) is the best option. However squirrels are very clever and will try all kinds of methods to get to the feeders, don't underestimate them. They will leap for long distances to get to a feeder. Cones on poles to stop them climbing up works very well provided there are not any trees our house walls close by that they can climb and jump from. A friend put a cone on his feeder and his two squirrels spent a week climbing up a nearby tree and jumping on the cone time after time until the broke it.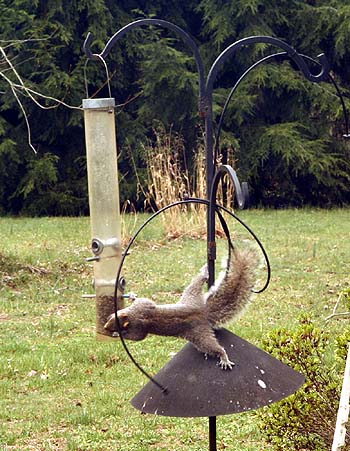 Squirrels will also hang down from branches by their feet to get to feeders. It took ours several months of trying before he figured out how to edge down the roof reach under the eve and down onto the hanging feeder there so he could reach the seed. In the new position on a pole with a cone below it they climb the side of the house and leap out to grab it before they fall.
Thus take care where you put a feeder, anything in a tree will get squirrels. Even if you think it's a good spot consider that the squirrel is out to beat you. Its always a running battle.
One useful trick is to add cayenne pepper to the bird seed. The birds cant taste it and they don't care, but most squirrels hate the hot taste and will leave the seed alone. Occasionally you get one that loves the taste of spicy food and will ignore it but its not that common.
Seed debris.
Whatever you put in the feeder you are going to get shells and hulls left on the ground under the feeder. The grass there is going to be scratched up more as the birds scratch for the seeds. The best option is to place it in an area where you are not bothered if you have the best grass then plant a few tough species underneath it, or place it in a flower bed where there are perennials that come up later in the spring. This way the hulls work as mulch and the seed hulls bother no one.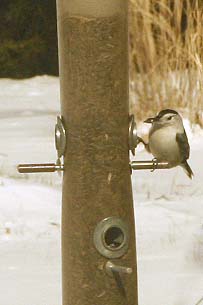 Types of seed.
We use unhulled sunflower seeds in our hanging tube feeder. You can get hulled seeds but the speed at which those disappear is amazing and we spent too much time filling the feeder up again. Using unhulled ones slows down the speed at which they can eat them. Many people don't like them because you get a pile of seed hulls under the feeder. We just planted hostas under the feeders. They don't come up until after the feeders have been removed in the spring and they hulls act as a great mulch. The hostas do well and we get far fewer weeds.
We use mixed seed in the larger feeder. This allows for the birds to get a variety of seeds. However some birds like only one kind. This tends to be things like blue jays who go after the sunflower seeds and will toss out all the other seed to get to them. If you have a lot of blue jays they will empty your feeder fast to get the sunflowers so you might want to mix in extra ones to keep more food in the feeder rather than on the ground.
How long should you feed the birds.
That depends on how much you enjoy watching them and what other wildlife you have around you. If you love that part of it then you can feed them all year. If you just want winter entertainment and to help feed them in the lean times then take the feeders in during the spring.
If you live in an area where there is other wildlife taking feeders in when spring comes is recommended. Don't leave feeders out if there are bears in your area they will be attracted. Putting feeders up very high to keep the bears off can often help but like squirrels bears are very clever and will figure out ways to get to your bird seed. For the most part its best to take them down. If you have bears make sure any spare sacks of bird food are kept well away from doors and walls in the garage. If you feed seed they can smell the sacks and may try to get into the garage or shed where you are keeping it. Bears are very strong and can be very destructive.
Also be aware that during warmer months many other animals are active so bird feeders may attract other visitors. Mice and voles will come and eat the seeds under the feeders as will raccoons although they tend to come at night they can often be easily seed especially during a full moon. If your feeders are close to the house you may not want to attract such animals so taking them down in the summer is again recommended.
If you have bears don't use humming bird feeders either unless you can get them above the height a bear cant reach it. A bear will completely destroy a feeder when trying to get at the sugar syrup.
Grow other food sources during the year.
While birds will eat seeds during the winter months virtually no bird feeds seeds to their young chicks. They use caterpillars, insects and such like. So having a diverse garden with many different plants that attract insects will increase your bird population and give them other things to eat. Growing plants that pollinators and other insects like to use is helpful. Growing plants that produce seeds that birds love to eat will also attract them to your garden. An example is Anise Hyssop, the goldfinches love the seed and often our rows are so festooned with the bright yellow birds that it looks as if the plants are covered in yellow flowers. Providing seed in the garden is a much better way to feed the birds naturally than at a feeder during the year and since they are spread out it does not attract other pest such as mice to the feeders which can happen in summer months.
We had a nest of tent caterpillars in a tree near our patio one year which I intended to remove but never got to it. Once the caterpillars broke from the nest they infested our patio plants, not to eat them but to pupate. However a pair of blue jays spent days picking every single pupa from all the plants on our patio, there were dozens of them but the happy birds found it easy to locate them. Thus they had lots of food for their nestlings and we had a pest free patio.