The Great Backyard Bird Count is coming up soon February 17-20 2017.  It's your  opportunity to join with people from around the world to look at the bird populations everywhere.
You can count those at your own bird feeder or for the more ambitious you can travel around and count birds in may areas.  Many people get a group together and make a day of it.  You can even have a competition between local groups and see how many different sightings you can achieve in one day or over the four days of the event.
Launched in 1998 by the Cornell Lab of Ornithology and National Audubon Society, the Great Backyard Bird Count was the first online citizen-science project to collect data on wild birds and to display results in near real-time.  It was later joined by Bird Studies Canada when bird enthusiasts from Canada started reporting their own sightings.  Every year the number of reports has been growing and in 2013 it went global with countries all over the world now reporting on bird sightings.
The Great Backyard Bird Count website. gives detailed instructions on how to count birds and how to enter the data into the citizen science database.  It's a great activity to people of all ages and an wonderful family event that everyone can enjoy.
It's traditionally held in February because the three science groups wanted to create a snapshot of the distribution of birds just before spring migrations ramped up in March.  After the event went global in 2013 it gave them a much richer and detailed snapshot of birds wherever they are in February, regardless of seasons across the hemispheres.
Check out their website if you are interested.  Plug in your area and they will even give you a checklist of all the birds that you are likely to see in your area.  All you need to do is count how many and add it to the checklist.  Then when you are all done enter it into the database.  It's fun to watch their real time map light up with little dots as people all over the globe enter their data and it gets pinned on the map.  They also have a bird photography competition for the more ambitious, so don't forget to take your camera along when you are bird watching.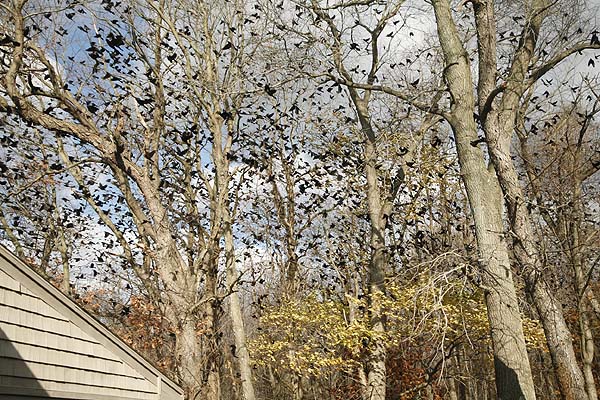 So start thinking about it now and plan out what you want to do.  If your climate is mild making a day of it can be really fun.  Pick several different locations to visit and see how many different birds you can find.  In colder locations a little more enthusiasm may often be needed but it can still be a rewarding and different family or group event to participate in.  Some organizations offer group trips or location suggestions where you can go and view birds.
Our own Master Gardener group organizes such a get together at our local park where birds can be spotted.  I don't go because I can see more birds on my farm than they have in the park.  I do the backyard bird count every year in honor of my cousin Peter Ryder.  He was a great bird enthusiast and would have loved to participate in this venture but sadly he died of lung cancer before this event went global (he lived in England).  However I like to keep his memory alive with this event.
More and more scientists are beginning to realize the power of the citizen scientist and realize that everyone has something that they can contribute that can be very valuable.  After all you don't need a degree to count birds people have been doing it since the stone age.  So whatever you choose counting through the window from your living room armchair  or out for a day trekking join in the fun and become a scientist at least for one day.