We are a small (seven acre) farm located in central New Jersey. We specialize in growing flowers for drying and specialty herbs. Our farm is not open to the public.
The farm was started from scratch in 2007 with one small open field to which we have added as our business grew. Our lead farmer is also a qualified environmental steward so working the land in conjunction with good land practice and the surrounding environment is very important to us.
We grow all our plants under organic conditions. We do not use any pesticides, only fertilizer. All our plants are grown using low water drip irrigation systems with protective plastic mulch. This mulch is far better than using plant ground cover because it keeps down weeds which can spread pests and diseases between plants and rows. It also helps warm the soil, prevents moisture loss and controls any soil erosion. Our soil is sandy so erosion is an important part of our farm management plan.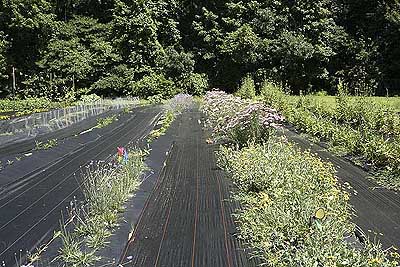 Portion of our main field showing plastic mulch and ground cover use. Chocolate flowers, Yarrow and Catanche all in bloom.