Mountain Mint
Pycnanthemum pilosum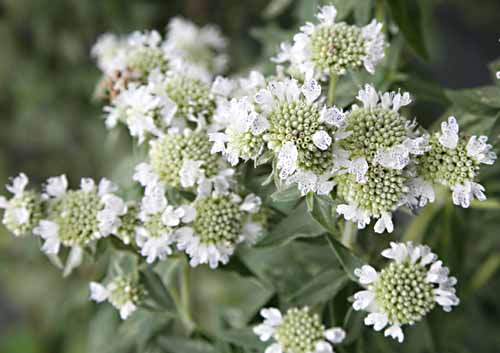 A tough long flowering native perennial plant for fairly dry areas that takes little care or maintenance once established. Prefers full sun to partial shade. Can tolerate low water and some drought. Grows up to 4 feet in height and is very long flowering. Lovely mint scented foliage can be used instead of some mints in cooking. Easy to grow. Hardy to zone 5 some report zone 4. Butterflies and bees love the flowers and the deer and rabbits don't eat it.
Description
A tall native perennial plant growing from 2-4 feet in height. Produces strong woody stems that are much branched and covered with small white hairs. Branches have mid green lanceolate shaped leaves with smooth edges up to 3" long and ¾" wide. These are also have fine white hairs giving them a slight gray appearance and a strong mint fragrance when brushed or crushed. Leaves are arranged opposite on the stems and the branching produces a slender bush like effect in the plant. Flowers appear towards the ends of the stems and are borne in rounded clumps with only a few flowers blooming at one time but since there are so many over the whole plant it gives the appearance of strong flowering for a considerable period of time, usually a month or more in mid to later summer. Each flower is about ¼" long, white and covered in small purple dots.
Location and care
Prefers a full sun to semi shaded location. In warmer parts of the country some shade from noon day heat would be advisable. Here is zone 6 we grow ours with partial shade during the day with good results. Not really fussy about the soil type will grow in almost anything provided its not waterlogged. Does well in poor and rocky soils. For best results a richer soil is preferable but this can make the plant larger and more eager to spread. Poorer soils contain it more. Does not really need much in the way of watering unless there is a drought. Although the plant may survive this makes it very susceptible to rust where all the leaves will fall off. Some watering at this time is helpful. If area receives adequate rain little additional water is necessary.
Allow about 2 feet between plants as they will grow tall Ideal for use as a back border or against trees, walls or hedges where some height is needed. In sheltered locations plant stems may need staking. Will try and spread a little with rhizomes but not as aggressive as other mints. Butterflies and bees love it as do many other beneficial insects. It's a great attractor for native bees. Flowers first year from seed.
Growing
Seeds are small. They can be direct sown but starting indoors is recommended for more control. Germination can take 20-30 days so keeping an outside area weed free for this time can be a challenge. Outside scatter on well prepared weeded soil surface after all danger of frost has passed.
Seeds need light to germinate so do not cover.
Indoors start in late winter in flats or plug cells. Keep warm and moist until seedlings appear. Easy to grow. Transplant to individual pots when large enough to handle and plant out when seedlings reach about 6 inches in height after hardening off. See general growing instructions for more information.
Edible Uses
Flower buds and leaves - raw or cooked. A mint-like flavour, they make a nice addition to salads or can be used as a condiment. The fresh or dried leaves are brewed into a refreshing mint-like tea.
Medicinal Uses
The tea is also used as a calmative and in the treatment of menstrual disorders, indigestion, colic, coughs, colds, chills and fevers. A poultice of the leaves is used in the treatment of headaches. The flowering stems are cut as flowering begins and they can be used fresh
Other uses.
Makes a good cut flower filler. Can also be dried for craft arrangements.
Other names.
Virginia Mountain Mint, Hairy mountain mint, Koellia virginiana.
| | |
| --- | --- |
| Mountain Mint single plant | Mountain Mint Growing in our field |