California Poppy
Eschscholzia californica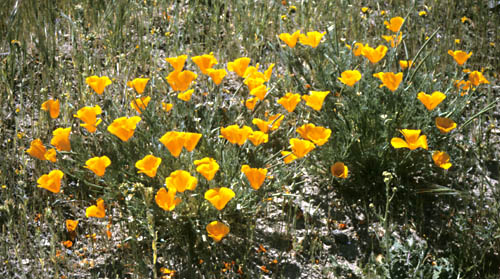 A really cheerful native plant that will bring easy color to any garden. Easy to grow and maintain no matter where you live.
This little plant is very drought tolerant and grows well on poor soil, in fact it will do better there than on a richer soil where it will often produce a lot more foliage but fewer flowers. It does not like damp or wet soil, and it does need full sun. It's great for areas where you don't really know what else to do and don't want to have lawn. It's also very good as a bedding plant or low boarder but best and most impressive in mass plantings rather and individual plants. It will bloom profusely in mid spring but can flower throughout the whole summer if sufficient water is present.

Native to California it grows in dry regions for Baja to Oregon. This plant is grown as an annual in most parts of the country but in favorable conditions is can behave like a short lived perennial and overwinter for a second year. It's hardy from zones 5-10. In most areas it should be grow as an annual but these little plants will readily reseed themselves and can return year after year. It will tolerate light frost. It's also popular with honey bees. Not suitable for cut flower as petals fall off as soon as the flower is picked.
Description
The flowers are usually brilliant orange, but can be red or yellow. It has four paper thin, silky-textured, petals forming a cup or flute shape which can reach up to 3" across. It has grayish green fernlike foliage the leaves being up to 6- 8" long and finely dissected. The plant can reach a foot or so in height with the flowers standing above the foliage in a very showy manner. The flower petals close at night or in cold, windy weather and open again the following morning, although they may remain closed in cloudy weather.
Growing.
Sow directly where you want them to flower. IN full sun and on poor soil. Poppies do not transplant well. Loosen soil to about 4-6" deep and rake the ground over well, sprinkle the seeds and rake in about 1/4 or less" Mixing the seeds with a cup of sand or fine peat moss helps to evenly distribute the seeds. Remove any significant weeds that will compete with your new plants.
Should you wish to have the plants grow in rows, place 2 to 3 seeds every 3 to 4 inches apart down a row. Make each row about 12 inches apart to accommodate the size of the adult plants.
Once seeded ensure that the soil does not dry out completely, but do not over water, poppies don't like it wet but they do need some moisture to germinate. IF the soil looks like it's drying out water gently with the mist setting on the hose. Seeds germinate within 7-10 days, once the plants are reached 2-3 inches watering can be reduced and mature plants need no extra water at all. DO NOT fertilize, plants will reduce in vigor as soil quality increases.
Flowers appear within two months, they prefer cooler temperatures and will fade once at over 80 degrees, they may however return when temperatures are reduced. Plant in early spring in cooler zones (6 and up) and in winter in warmer ones for spring flowering. In cooler areas spent flowers can be removed after first bloom to encourage more flowers in warmer areas leave all flowers to produce seeds for next year. Weed as needed plants are easy to recognize by their blue green feathery foliage.

Light: full sun.
Moisture: well drained soil, Drought tolerant. They don't like constant dampness.
Hardiness: USDA Zones 5-10.
Soil. Poor soil is best. Prefers it sandy but will grow in any well drained soil. Does not like soil to stay damp.
| | |
| --- | --- |
| Poppies growing along our bank | Close up on flower |