Garlic Chives Seeds
Allium tuberosum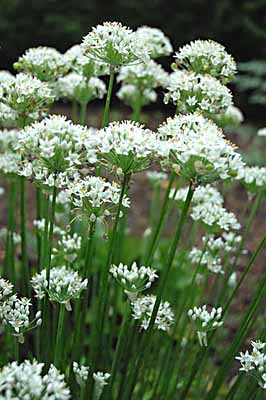 A perennial plant that produces clumps of flat upright green leaves that look like thick grass stalks 10-12 inches tall.. In late summer a thick stalk rises above the leaves and produces a wide umbel of white flowers 2-5 inches wide. Leave die down in the winter and new ones grow up each year. Likes full sun but will grow in partial shade. NOTE: deer will eat this plant.
Although similar to the more familiar chives this plant has larger flatter leaves with more of a rich garlic flavor. The flavor is much more powerful than usual chives making it a better choice for cooking where normal chives can lose their flavor very quickly. It will add a interesting garlic flavor to salads and seasoning not achievable with the usual chives. Lightly steamed the greens can be used as a vegetable or a garnish.
The other advantage is that the white flowers are also edible. They can also be used in bouquets and the large brown umbels left after the petals are gone are very attractive in dried flower arrangements. Medicinally the plant is reported to have antibacterial qualities. Wow could you ask for anything else from one plant?
Can be planted alone or in a flower border as the flowers make an attractive addition to any bed, or can be grown in pots. When the leaves reach 5-10 inches cut the outer ones off at ground level with scissors. Do not cut down the whole plant as this may kill it.
Our seed has been stratified and is kept refrigerated until your order to ensure fresh seed with ready germination.